Marriage trends in India show how increasingly lavish these ceremonies have become. Over the growing years, the burgeoning middle-class are known to spend through their noses, to turn the celebrations into the so-called mega events they are today. Due to the elaborate nature of the rituals, the festivities can span over a number of days; and almost everyone you know (and don't know!), come to your wedding to have some fun!
Indian weddings vary across states owing to the diverse cultural practises followed in each one. The best way to learn about specific cultures here is by attending one of their weddings. One of the key features of a 'desi' wedding is the prominent dancing, and celebratory Indian wedding music. Dynamic Roadshow offers an extensive range of services for weddings and events, including ceremonial wedding music, venue and stage décor, floral arrangements, indoor LED lighting and firework display, all kinds of venue furnishing, entertainment including DJ packages, traditional instrumentalists, classical vocalists and dancers, and much more. Their DJs are renowned for professionally mixing all genres of music to keep your toes tapping all day long. So, if you are looking for unique decorating, and all-encompassing entertainment for your wedding, you know where to find it!
Why are Indian weddings so much fun?
So, what really makes an Indian wedding so colourful, joyous, and exotic? Is it the food? Or, the dancing? Or, the colourful clothes? Or, the Indian wedding DJs belting out musical chartbusters like there is no tomorrow! Whatever the reasons be, here's a brief look at what makes these weddings so popular and entertaining: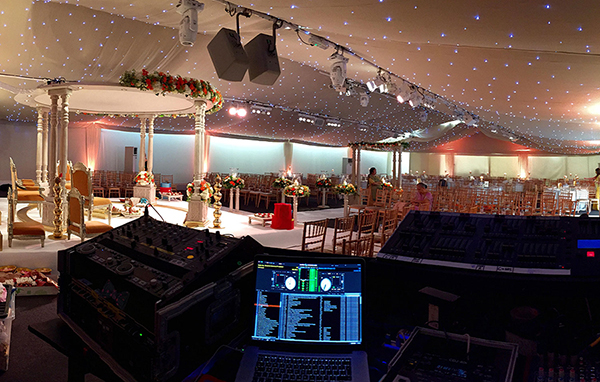 Feasting and Lavish Buffets: Move over bride and groom — it's time for the food! Indians love their food, and here it is as diverse as their cultures. Most of their traditional flavours and delicacies are served at their weddings. Sweets play a huge part of the meal too. You will go crazy with the kind of variety that is on offer. So, the best time to try Indian food is at such feasting opportunities. Guests who have attended the wedding will talk about the food days after the celebrations are done and dusted. So, can you now understand why the parents of the bride or groom make such a big deal about the catering?! Most Indian wedding menus serve anywhere between 20-50 types of dishes. This may not include the number of dessert and drink options.
Quirky but fun traditions: No one knows who has invented these quirky games, but it has been passed down from generation to generation; and everyone looks forward to having a bit of fun. One of these popular games involves finding a ring. A steel bowl filled with milk, pebbles, and rose water is placed in front of the couple. There is a ring hidden in the bowl; the couple have to compete with each other to find it. The winner gets to keep the ring. Yet another game is one in which the groom's shoes are stolen by someone from the bride's side, usually it is a job given to her younger sisters. After the ceremony is over, and the groom starts looking for his footwear, he is met with the culprits asking for a bribe for returning the footwear. Only after he pays up, will his precious shoes be returned. Usually, the groom has to give in, if his family can't find his shoes for him. These games are a lot of fun, and everyone looks forward to them.
Application of Henna: This is a custom that is widely known, and we all look forward to it. Henna is a rich paste, that is made by grinding henna leaves with water. This thick paste is allowed to sit for a day or two, and then it is used to decorate the bride's hands in a variety of designs. Henna is known for its calming properties. A special henna designer is called to apply these designs on the bride and her party of friends. It is believed that the darker the design gets on the bride's hand, the luckier she will be in love. Everyone loves getting some design applied on their hands or their feet. And this is an essential part of every Indian wedding.
Well, these are just the common things that add to the fun of a marriage celebration in India. Not to mention all the dancing and singing paraphernalia discussed earlier. There are several more USPs in each regional wedding, that you must experience to understand what a big deal it is. The frolic and laughter make great memories, and there's lots more that will have you feeling great for days after the festivities are done. Though it all ends up in a blur of people, food and festivities, attending an Indian wedding is truly worth having on your bucket list of things to do.